IT.0215.CO
ETCHING MACHINE FOR PRINTED CIRCUITS
Completely anti.-acid PVC made it allows the treatment of single and double side boards.
When only single side boards have to be etched, they could be put back-to-back so as to double the working area.
The machine it equipped with a magnetic dragging pump which does need no maintenance.
In this type of pump the acid never get in touch with the metallic part of the pump, this allows to use any type of acid for printed circuits between the common ones present on the market.
Floating nozzles during their movement provide an uniform distribution on all the surface to be treated.
The horizontal position of the boards has been choose in order to avoid the phenomena of the over-etching which is present in the machine which treat the boards in vertical position.
This phenomena happens because in this case the lower part of the boards is reached by the spray of the nozzles and by the acid which runs down the same boards.
The heating element is quartz made and allows a high safety degree against breaking if acid is added when the machine has already reached the temperature.
An adjustable thermostat placed on the control panel enables to choose the suitable temperature, while the thermometer placed on the same panel allows a continuous monitoring of the reached temperature.
A timer enables to set the etching time.
When this time is reached the timer stops the pump and the nozzle movement, remain inserted the heating element so as the machine remain in temperature.

The machine is equipped with a
transparent cover which enables a
continuous control of etching feeding.
A safety switch on the cover stops the process when the cover is open in order to avoid spray of acid.
On the rear side of the machine there is an outlet for the external vapour drain while a useful clock allows quickly emptying of the tank containing the acid.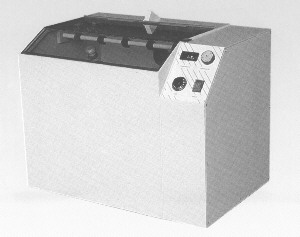 Technical characteristics:
Working area 400x500mm
Spray etching system with floating nozzles
Magnetic dragging pump
Timer 0/15min
Safety switch on the door
Rear cock for acid drain
Outlet for the external vapour drain
Supply 220V
Absorption 550W
Dimensions 735 x 582 x 575h mm
Weight 23Kg