IT.0216.CO
DRYER OVEN FOR PRINTED CIRCUITS
Walls insulated with 40mm of rock wool enable to obtain a high thermal insulation degree, in this way when the maximum temperature is reached inside the oven the external walls remain at the room temperature.
An high efficiency fan creates inside the oven a certain turbulence which heats uniformly all the surface.
Temperature is controlled by means of an adjustable thermostat put on the control panel where there are also a thermostat for the constant reading of the temperature and a timer which removes the resistance at a fixed time.
The particular elevated position of the control panel allows to obtain a good thermal insulation of he commands.
A safety microswitch provided on the dryer door stops the working when it is open.
The external outlet for smoke and vapour drain is absolutely necessary when it is necessary to dry painted material, because quite all the paints contain solvents particularly bad for the health.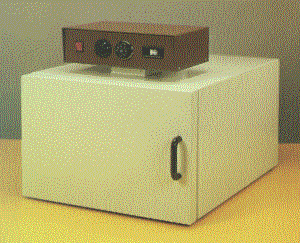 Temperature 30/120°C
Adjustable thermostat 30/120°C
Thermometer 20/120°C
Timer 60min
Working area 400x400 for each layer (max.5 layers)
Distance between layers 12mm
External dimensions 60x72x90h cm
Supply 220V 1PH, 50/60Hz
Absorption 2000W
External outlet for smoke drain
Internal fan
Weight 46Kg