| | |
| --- | --- |
| | Supply modules for laboratory benches |
SECURITY - EASY USE, HARDNESS
Useful for school and for industry
The modules can be assembled both on or under the work plan.
Vertical positioning is possible also.
Standard dimensions: cm. 100 x 9 x 9
Special dimensions on request.
Made according CE regulations
---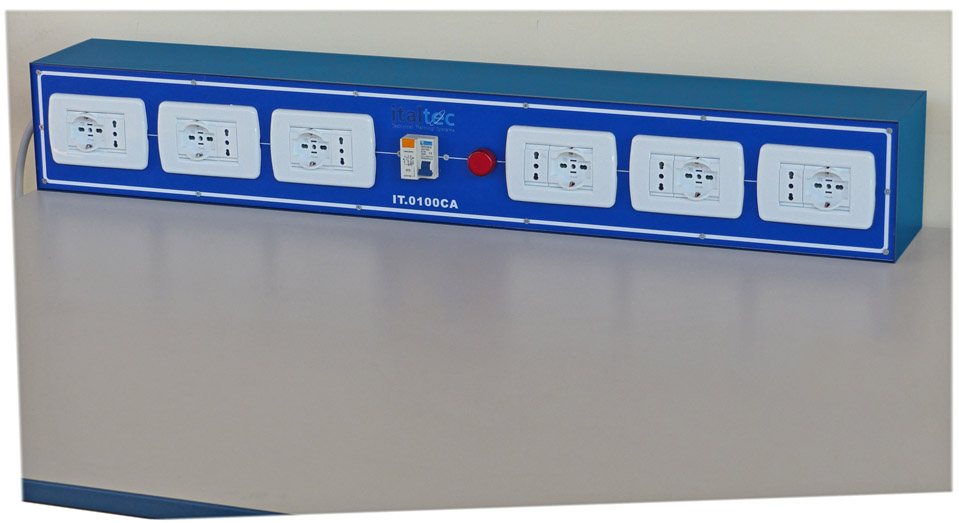 IT.0100.CA - Module type A
Magneto thermal circuit breaker 10/16A with differential section 30mA
Pilot lamp and 4 universal socket 220V 10/16A + Schuko + USA

---

IT.0100.CB - Module type B
8 universal socket 220V 10/16A + Schuko + USA

---

IT.0100.CC - Module type C
Magneto thermal circuit breaker 10/16A with differential section 30mA
Emergency mushroom;
Key consent for outputs;
Pilot lamp and 4 universal socket 220V 10/16A + Schuko + USA

---

IT.0100.CD - Module type D
Magneto thermal circuit breaker 10/16A with differential section 30mA
Pilot lamp and 4 universal socket 220V 10/16A + Schuko + USA
Insulated single phase outputs 12V and 24V 4A protected by two magneto thermal circuit breakers
---

IT.0100.CF - Module type F
Magneto thermal circuit breaker 10/16A with differential section 30mA
Pilot lamp and 4 universal socket 220V 10/16A + Schuko + USA
Two insulated single phase outputs 2x12V and 2x24V 4A protected by two magneto thermal circuit breakers
---

IT.0100.CG - Module type G
Magneto thermal circuit breaker 10/16A with differential section 30mA
Emergency mushroom;
Key consent for outputs;
Pilot lamp and 4 universal socket 220V 10/16A + Schuko + USA
Two insulated single phase outputs 2x12V and 2x24V 4A protected by two magneto thermal circuit breakers
---

IT.0100.CM - Module type M
General activation through key consent.
Magneto thermal circuit breaker four poles, 16A
Differential section four poles 25A, 30mA
Pilot lamp and 4 universal socket 220V 10/16A + Schuko + USA
Emergency push button
Insulated output 220V 3F + N.
Single phase insulated output 1x12V and 1x24V 4A with 2 magneto thermal circuit breaker.
2 x universal socket 220V 10/16A
Dim.approx cm. 100x15x15.

< Back <

No liabilities are given or implied for the specification
and photographs printed in this page.
Technical alteration reserved.
Copyright © 1995, italtec srl