MULTIFUNCTIONAL BASIC BENCH
Dimensions:LxWxH: 200x100x65-90cm. (any other dimension on request)
Sectional-steel made frame mm 80x20, rust-resistent and epoxy oven-varnished without solvents. It has been built in rugged rust-resistant and oven- varnished 2mm thick tubular steel.
Worktop bilaminated wooden made, PVC rimmed with wrap-around corners.
Cylindrical legs diam. mm 80x20 with levelling feet that allows to adjust on irregular floor.
Structure weight, without accessories: 68kg; Poids sopportable without deformation 1150kg.
The bench can be supplied with some accessories: drawers, insulated and protected single-phase or multi-phase sockets for 380V, 220V, or 24V voltages, book-shelf, stand for soldering tool etc.


Laboratory bench with double shelf (or double desk).
It is possible to assembly one desk on short side or two desk on long side.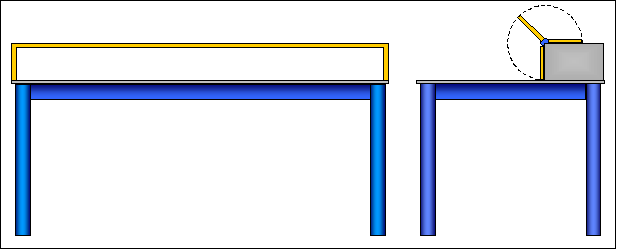 Possibilité d'avoir étagèr; avec volet basculant fermant à clé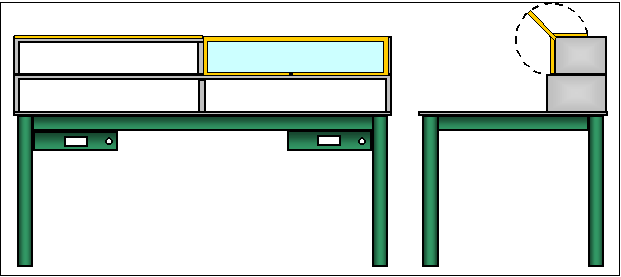 Example de banc avec double étagèr; de 2 métres.
Possibilitè d' avoir la partie supèrieure avec volet basculant fermant à clé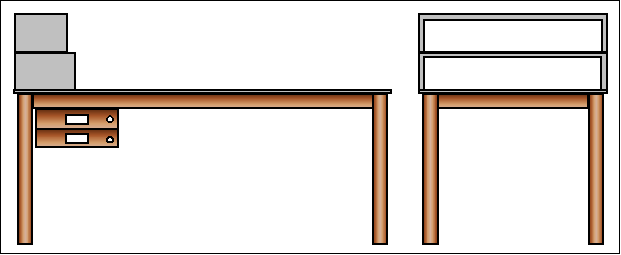 Banc avec un pupitre placé sur la côte de 1 métre. Possibilité de placer 4-5 élèves

Drawers positioning

Shelf positioning